Part ONE…
In October, I bought an Apple Watch as a birthday present to myself. And ever since I've been mildly ring obsessed… Why Apple thought that closing rings wasn't going to make Brits snigger (and with Johnny Ive on staff too!) is beyond me. But on a more serious note, it really does highlight how easy it is to be inactive. If that doesn't sound silly, my point is - it's amazing how much energy is expended just fighting with the commuters to get to work. Or, conversely how little I move around if I choose to work from home.
Anyway - over the last few years I've gotten into a habit of going for a constitutional on New Year's day - to blow away the cobwebs. I've also tried to get my walk written up and posted on my blog same day… well, I haven't quite managed the 'posting on the day day' bit this year.
However, going back to the rings, how about a Capital Ring? Why do one walk, when you can commit yourself to 15! Yup - there's a challenge and a half - I'm going to close the Capital Ring in 2018! And write about it here. Or fail to do so, and let these blog posts peter out unfinished…
The Capital Ring is 78 miles in total, split into 15 sections. Each section starts and ends near a public transport link, and allows you to see parts of the city you'd not normally see. London's a big place, plus Londoners are tribal folks… the whole north of the river vs south of the river debate will run and run… (but, North IS better, right?) - and most people only really know the bits of the city where they live, the bits in the centre, and the bits where they work.
As I had new year's day, I decided that rather than start with the sections closer to home, it made sense to start somewhere else, somewhere out west. So I ended up picking section 10 from South Kenton (somewhere I'd never been) to Hendon (somewhere I've been a couple of times before)
It was an hour on the tube to South Kenton - which apparently is one of the only tube stations without ticket barriers - potential fare dodgers take note - an anonymous and rather bleak little station out in Zone 4 on the Bakerloo line.
You leave the station and start your trek by wandering through an underpass - where you're almost immediately met by an impressive looking modern-ish pub, that looked surprisingly well preserved, and actually compared to East London, surprisingly still open. But this was too early in my walk, and the day (and the year?) for a first beer - so I soldiered on. I suspect I'll revisit the pub at the end of section 9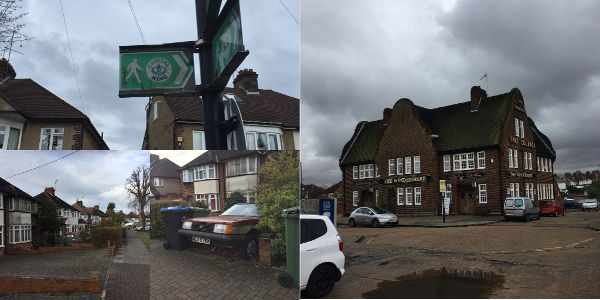 To ensure I'd not get lost, I'd brought along the route notes on my Kindle DX - but for the most part probably shouldn't have worried. The signage was clear, and pretty frequent - and I found myself wandering along fairly unremarkable streets of 1930s semis, enjoying watching the world go by, exploring the suburbs, and generally enjoying the fact that a random route planner was controlling my destiny for the afternoon.
And it didn't take long before I found myself in Fryent Country Park. The skies were blue, and it was if I was the only person in the world.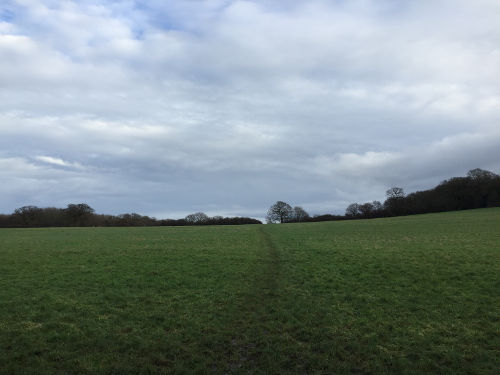 From here, I was directed to a "trig" point at the top of Barn hill. There were great views of Wembley Stadium - but also in the distance, the skyscrapers of Canary Wharf were (just about) visible. My (entirely unsuitable for walking) shoes were now fairly muddy - but the views and the solitude and the fact that it felt like a excellent thing to be doing on the first day of 2018 made it feel like my walk (or capital ring quest) was the right decision.
It was all downhill from here. Almost literally - as from Barn hill, I was directed out of the park, into a field, where ALL Capital Ring signage disappeared, and I ended up quite lost. The PDF didn't help - and a smartphone wasn't much help either. It was only finding an informative sign that explained quite how lost I was, that helped me get back on track. It was a 10 minute detour to head to the top of Gotfords hill. Then a zig zag route through a muddy field, to ensure my feet AND trousers were suitably muddy - then I found myself back in suburbia.
My next destination was St Andrews Church - an attractive building dating from 1847 - flanked by a rather ghostly semi-abandoned graveyard.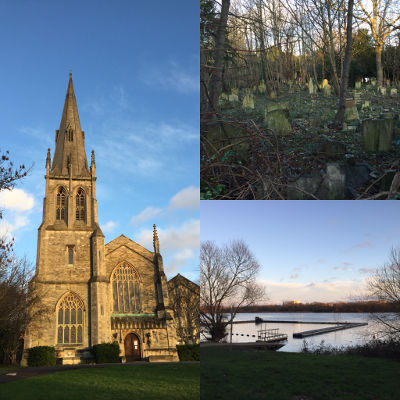 Next up, probably the highlight of the walk - the Welsh Harp reservoir. This is just moments away from the North Circular road, but I had no idea it was there. Another reason why walking London at this kind of scale is a nice way to explore. The water looked amazing in the late afternoon sunlight, but I really was starting to run out of light, and still had another mile or so to go. Clearing the reservoir, there's a single track bridge - light controlled - and with a pedestrian controlled pedestrian phase, where the cars travelling in both direction have to wait for us.
From here it's into grimy North West London suburbia - which felt reassuringly tired, low rent and like East London (only clearly not as good. Londoners = tribal, remember?) - and then straight over the M1 motorway.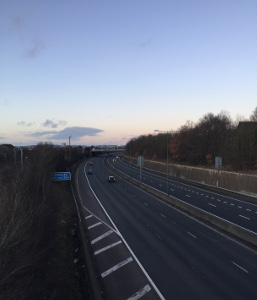 After going over the M1, you dive under the A41 - trudge down some more anonymous 1930s streets… albeit streets that back onto the North Circular road, before finding myself in Hendon park and the end of my first section of capital ring. Time for a wander through the park, to Hendon Central tube station, then home.
And apart from the mud, I had a lot of fun. I'd completely underestimated how long it was going to take me to trudge the six miles, and how muddy I was going to get. Indeed, as I hopped onto the tube for the journey home, the sun had already set, and it was getting dark fast.
Here's to the next 14 sections…
THIS SECTION: 6 miles
TOTAL SO FAR: 6 miles
MILES REMAINING: 72 miles…