Another in a series of blog posts that started out as articles for MZ Rider magazine. Last summer I went in search of the former AJS/Matchless motorcycle factory in south East London… and actually found the remains…
Also - why not start 2022 with a new post on my blog, which I have rather neglected in 2021. I'll try to do a little better in 2022.
Adventures in London part two
I'm not a natural motorcyclist. I didn't wake up one morning, and say to myself - motorcycles are a thing I want to do. Although I've always loved bicycles… Nope, as with many people - my Dad had bikes when I was younger, and I guess the first motorcycle I remember is his 1954 AJS 16 MS - a black and gold 350cc single.
A.J Stevens (or AJS) were founded in Wolverhampton in 1909… but when the company went bust in 1931 they were bought by Matchless - a motorcycle company based in Plumstead - South East London. The new group was called Associated Motorcycles (AMC) - and if you're an AJS purist - that was the end of true AJS motorcycles.
Yes - everyone tends to think of the Midlands, Birmingham and Coventry when it comes to British bike manufacturing - but London based Matchless were true pioneers, building their first motorcycle in 1899 and opening a factory and offices just off the Plumstead road in 1913. A factory that was able to expand over the years, and where my Dad's bike was built back in 1954.
The factory survived the collapse of Associated Motorcycles (AMC) in 1966 - when AMC were folded into a new company Norton-Villiers… but the AJS and Matchless motorcycles made after 1966 were effectively badge engineered Norton twins - the big singles that Matchless and AJS were famous for were no more. However, the factory couldn't survive the machinations of the GLC - who compulsorily purchased it in late 1968 for a road-widening scheme, and it was all gone by July 1969.
Anyway, with the sun shining, and nothing better to do, it's time to go on a pilgrimage to the factory (or where the factory used to stand at least) for no other reason that it's not very far away.
After negotiating the incredibly painful new road system around Stratford - which was supposed to make things better for walking and cycling, but really appears to have made things worse for everyone, we eventually joins the A12 at the infamous Bow roundabout. Infamous as a number of cyclists have been killed there.
Now we're heading down an almost motorway - heading for the Blackwall Tunnel. I say almost motorway, as back in the 1960s there were plans to build a series of orbital routes around the city called Ringways - of which really only ringways 3 and 4 were completed, and they were eventually turned into the M25 instead…
The Blackwall Tunnel approach road was going to be part of ringway one - and as such a small chunk of this road used to be designated A102(M) - until ownership was taken over by TFL in 1999, at which point it was downgraded from motorway status back to a regular road.
As we approach the tunnel, on the right appears a concrete tower block - Balfron Tower. It's something of a brutalist icon - although it's often overshadowed by it's slightly taller sister building Trellick Tower in West London.
Graeme Maclean,Balfron tower, CC BY 2.0
Both were designed by Hungarian architect Erno Goldfinger. Author Ian Flemming wasn't a huge fan of Goldfinger's architecture, especially the demolition of cottages in Hampstead before the war, to be replaced by Goldfinger's own house at Willow Road. And thus villain Auric Goldfinger was born.
Balfron Tower is currently swathed in scaffolding and sheeting, as controversially the council tenants have all been booted out by housing association Poplar Harca - and the building is being refurbished with wealthy city folks in mind. As it's just a stones throw from the new financial district at Canary Wharf I guess this isn't surprising, but is mildly depressing, as council tenants get booted out… see also the Aylesbury estate near Elephant and Castle…
The traffic is busy as we approach the Blackwall Tunnel. The traffic is always busy here.
The original Blackwall tunnel was proposed in the 1880s, started in 1892 and finished in 1897. We're not using that tunnel today.
By the 1950s, the original tunnel was woefully inadequate - and proposals were accepted for a bigger better tunnel. Work started in 1960 - and in 1967, Desmond Plummer, leader of the Greater London Council, proudly opened this modern engineering marvel. It says as much in big letters as you descend under the Thames…
Folks have been queuing up to enjoy the tunnel experience ever since. And for now we don't have to pay for the experience… but if current plans to build another tunnel at Silvertown come to fruition, then Blackwall and Silvertown will both be tolled. So best to enjoy this bargain experience whilst we can.
Traffic is slow moving, but it's moving, and soon we're out of the dark exhaust fume filled tunnels and we're south of the river.
Londoners have been tribal since always - probably because getting from one side of the river to the other has always been painful, especially in the east - we have fewer river crossings than they do in the west - so it's very important to decide that the side that you're on is the best side, and to loudly proclaim your choice to anyone who'll listen…
Checking the map, I've realised we can detour via a marvel of modern engineering - the Thames Barrier. North of the river (the best side… see?) we have Thames Barrier Park - but south of the river there's the official visitor centre. I've been meaning to visit this for a while. The website says the visitor centre is currently closed, because of Covid 19 restrictions - but what the hell, let's see what we can see.
…and we can see a lot. You can get a lot closer to the workings of the barrier on the south side of the river, and get a real sense of how the barrier functions - with large rotating cylinder gates. This scale model (pictured) helps.
The Thames barrier owes its existence to the North Sea floods of 1953, where the combination of a high spring tide, and heavy storms led to flooding across the Netherlands, Belgium and England - with 307 fatalities recorded in England alone. The following year, the Waverley committee recommended that some kind of flood barrier was required. But construction of the current barrier didn't begin until 1974, with the current structure completed in 1982.
But it has a futuristic otherworldly quality - somewhat at odds with new build flats and decaying infrastructure that can be found on the riverside…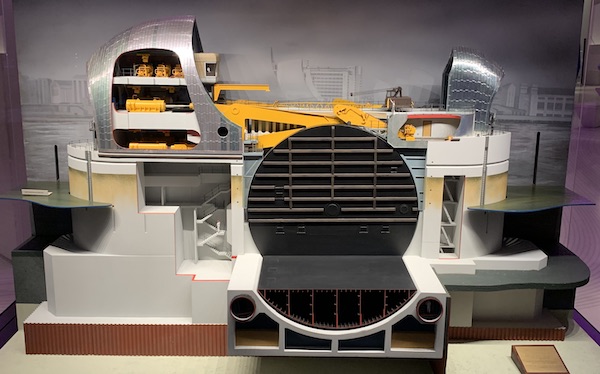 (And then with perfect timing I spotted an excellent model of the barrier on a visit to the Science Museum, so thought it would be an idea to add it to this post…)
It was a glorious day to enjoy some epic civil engineering - but it wasn't my goal - so it was time to get my gear back on, and go and play in the traffic some more.
Traffic through Woolwich towards Plumstead is slow stop start moving traffic. There's a bus lane - but unlike some other parts of London I'm not allowed to use it on a motorcycle. So I'll crawl along with the cars. Bus Lane rules in London vary from borough to borough and it can be easy to get caught out if you're not paying attention. I'm not in a hurry though and it's a beautiful day.
Guided again by the voices in my head (Apple maps on my phone talking to a Bluetooth headset) - we get to loop through Woolwich and then back on ourselves heading for Maxey Road SE18
It's a fairly unexceptional suburban street, and now's the time to park up and take a wander around…
…and what an anticlimax. I mean, I knew that the factory had been demolished but was hoping for a bit more industrial archaeology to explore. But I guess the frontage was destroyed by the road widening scheme, and everything else has been buried under nondescript modern housing. There's still a Victorian school… but looking at historical maps on the superb National Library of Scotland website, I can see that back in the 1950s the factory surrounded the school. In reality all there is to see is a heritage plaque that was bolted to a wall in 2007. That's it. There are some excellent photos of the factory as was to be found on a website called Working at AMC - but I just cannot imagine a working motorcycle factory here in south east London - so far has London come from its industrial past. It's a city of finance and tourism now, which probably isn't a bad thing.
AJS as a brand continued into the 1970s making a range of Villers powered two stroke scrambler and off road machines… and now sell a range of 125 and 50cc commuter bikes. Whisper it - but they're really badge engineered Chinese imports… which is poetic considering that AJS bikes from the 1930s onwards were mostly badge engineered Matchlesses… the more things change, the more things stay the same.