If you'll recall, on the ride home after purchasing the Helix - the main beam light came on after hitting a pot hole, and it wouldn't turn off again. I messaged the seller, wondering if this had ever happened to him, but no - it hadn't - and his only advice was to attack the light switch with WD40…
This didn't help. As far as I could tell, the switch for low and high beam was working correctly - but the main beam warning light would flicker when you flipped between modes, but resolutely would not turn off…
Well, this afternoon I decided it was time to take a look at it, and try to work out what was up.
And it was almost too easy…
The Helix has a ridiculous LCD digital dash… that's backlit in true 1980s style using standard capless dashboard lights. There are four on each side of the panel.
On the left:
Main LCD clock back lighting
Left turn signal light
Main Beam Warning light
An odd vanity light - with "Honda" written on it - that lights up with the ignition
Then on the right:
Main LCD clock back lighting
Right turn signal light
"Sidestand Down" Warning light
Another vanity light - this time with "CN250" written on it.
The vanity lights are odd things. Surely the rider knows they're riding a Honda CN250. Don't they? And even if they don't - do they need to be reminded?
Getting to the dashboard backlighting is fairly involved. I had to remove the screen, the maintainance hatch and another trim panel. The Helix is a fairly complicated beast when it comes to bodywork - and the years and previous owners have not been kind. There are broken tabs, and missing bodywork clips all over the place… :( But on the plus side it makes reassembly a little easier…
A couple of bulbs had blown… so I pinched a known good one from the turn signal warning light - and tried it in each of the bulb holders in turn.
Sure enough - the main beam warning light came on with the ignition… which wasn't the case with one of the vanity lights…
Penny drops
The previous owner had posted on Instagram that he'd changed all the clock backlighting bulbs…
Clearly he swapped the vanity light bulb and the main beam warning light by mistake! It's easy enough to do. Besides, how often do you ride on main beam around town?
So one of the "always on" bulbs was in the "Main beam" warning light slot, but the bulb wasn't properly seated… until I hit a bump on the way home…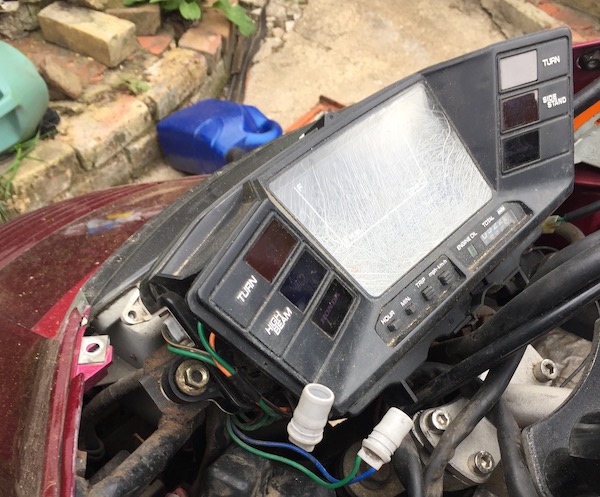 Can we fix it?
Well, that's just the thing - I know what's up… but now I've got some blown bulbs and no spares. And it's a bit late to pop to a motor factors, and besides, the scooter I'd take to the shops is now in a lot of bits…
But it just so happened the "CN250" light on the right hand side was working… Which meant I could steal it for the main beam warning light! It's OK, I know I'm riding a Honda CN250…
Alas, whilst faffing with the bulbs, I managed to blow the Sidestand warning light… Annoying, but that's a light I can live without.
So I'll need to source some replacement bulbs… including replacement vanity bulbs (instant spares!) - I'm toying with the idea of LED replacements, but standard bulbs will do for now.
The main beam warning light has been driving me crazy since I bought the bike, who knew that for once it would be an easy fix!