So. This week the unthinkable happened. I actually sold a motorbike. Something I've only managed four times before.
I know folks who buy a different car every few weeks (hello Ian) - before selling and moving on to the next one… but I'm not that person. And I felt sad as the bike disappeared into the back of a van. But I'm not really sure why.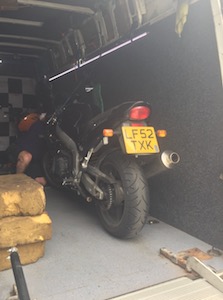 Having dug out as much paperwork as I could find - and checking the MOT status online - I can see I've been riding a tiny number of miles each year. Some years as little as a few hundred. The stats are telling me I don't need the bike, so why the inertia?
Motorcycling was EVERYTHING to 21 year old me… I'd passed my test (first time) at 20, I was never going to own a car, why would I want one?
31 year old me was able to buy a Triumph Sprint RS!
41 year old me was still clinging to that bike - not for what it was, but for what it stood for… that I was a motorcyclist. That it WAS still part of my identity. I think that's why I'm feeling a bit sad that my bike has gone.
I owned that Triumph for just over 10 years. And yet, if I'm honest, I don't think I've ever really liked it that much.
It was:
Heavy
Thirsty
no fun in town (cooling fan is forever kicking on and off - and there's not quite the steering lock for wiggling through traffic)
Far too fast for me.
Which was why I was barely riding it.
The Triumph's predecessor - a Honda CBR400RR was none of those things. (Well, it was thirsty when thrashed, but OK otherwise) - It was horribly uncomfortable if you had to travel more than 50 miles - but it was SO MUCH fun in London traffic, slim, fast, and nimble.
So why did I buy the Triumph at all? I think the UK motorcycle press is a little to blame. There's an obsession with bigger, faster, bigger, faster… once you've passed your test, you need a sports 600 until you can afford some kind of litre bike.
And that's what I did - bought a 955cc Sports Tourer because I could. I'd done my homework - and a Sprint RS was a lot of bike for the money. I was the second owner from new, and the bike had a full Triumph service history… yet was an unwanted trade in at just 6 years old.
But other than a trip across France two up, which really is the kind of thing a Sports Tourer was made for, we never really gelled.
The big clue was when I bought a bargain MZ 125 - and put more miles on that in a year than I did on the Triumph. I should have sold it there and then. And I don't know why I didn't.
As I get older (and wiser?) I've learned that what I really love about motorcycling is the experience of motorcycling. The fresh air, the sense of freedom, being able to go on adventures.
Not speed, not raw performance… and it's why I'm really enjoying my Honda Helix and I can see why they have such a cult following. And it's why I really need to sort out my 1977 MZ TS250 - now with new engine ready to fit.
I'm not sure that any motorcycle is bad… but life is too short to hang onto a bike that doesn't spark joy - at least not for me. I hope the new owner has fun with it though!