Back when I was a teenager, my dad decided he wanted to do some green laning… and promptly bought an enduro bike, and a brace of trials bikes, none of which were really suitable for green laning on…
…but these things stay with you and it's something I've idly fancied having a go at for a while. There's a suggestion that learning to control a bike on slippery surfaces improves your road riding - and I've read numerous rave reviews of the BMW Off-Road school… and really fancied having a go.
There were just a couple of problems.
It was really expensive, at well over £500 (plus travel and accommodation)

I wasn't entirely convinced that giant BMW twins were the best way to start out offroad
However, both of those problems were moot, as whenever I looked at the website, everything was booked up for the year, and so I'd pop this back onto my "things I'd quite like to do" (see also the MZ Racing Experience weekend) and forget all about it.
But earlier this year, I stumbled upon a website for a company called Superior Motorcycle Experiences. I'm not 100% sure how…probably via Club VC on instagram, or perhaps it was Sideburn magazine. Or maybe the Facebook algorithms finally got to me.
Regardless of how I found it, it certainly looked interesting. They were offering a day of off-road riding, with tuition, a support vehicle and slap up meals included, in the glorious Dorset countryside. For £175. (Although checking the website now - the price has snuck up to £195) If you consider that renting a motorcycle - any kind of motorcycle, is usually at least £100 a day, this felt like a bit of a bargain to me.
The bikes? Royal Enfield Himalayans…
The more I looked the more I liked… so eventually dragged a couple of mates who also have October birthdays along and got a day booked.
We arrived at Superior's headquarters for 8:30 am - having got just a little bit lost down a farm track on the way. It's an impressive newly built structure that was filled with all kinds of biking exotica - including some of the "new" Brough Superiors. In fact, that's how the company got their name, with the original plan to provide exclusive "superior" motorcycle days out on exotic and rare motorcycles. But it was the trail days on the Himalayan that had turned into an unexpected hit - and that have become their current focus.
We were welcome to admire the wide variety of bikes from Laverdas and Moto Guzzis to a bizarre Russian Jupiter chop - and a slap up breakfast with coffee, juice, pastries and bacon sandwiches was provided. Bliss. A requirement was that all riders had suitable boots - but what's not advertised is that they do have a stack of motocross boots you can borrow - so when my brother's smart, but ¾ length boots were deemed "not good enough" - he was able to raid the cupboard for suitable replacements.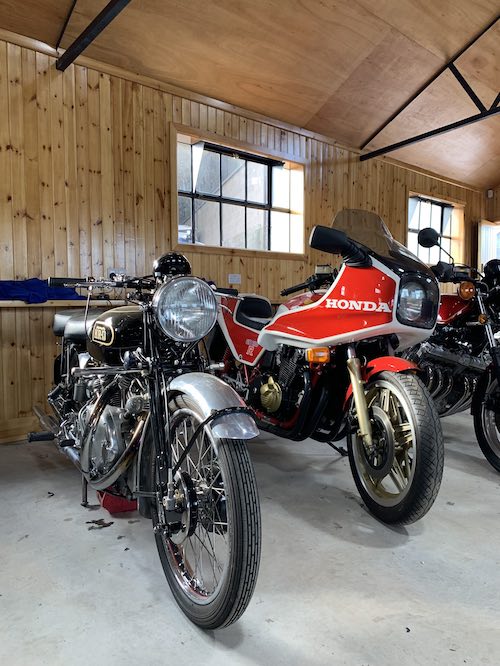 We all chose a bike (identical Euro 4 model Himalayan's - Superior have a new fleet of the Euro 5 model for 2022) - fired them up and then headed to a nearby field. Step one was getting familiar with the bikes, and practising slow speed control and how best to position yourself on the bike when offroad… and to be honest, I think it allowed our instructors to get a sense of the group, our skill levels and machine control skills.
I'd been dreading this - as slow speed manoeuvring and clutch control was something I'd been terrible at when I did some assessed rides with my local IAM group… and yes, I still struggled.
But clearly I wasn't too bad - as they let us out of the field, and onto the roads. This was it!
First impressions of the Himalayan were positive. It made a nice noise, had a light clutch and positive gearbox, and accelerated well - but rapidly ran out of puff. I'd heard they were absolutely gutless - but as our group of six hit the road, the bike felt snappy enough for the kinds of riding we were doing. Comfy too. The front brake didn't seem to do much other than make a "zizz" noise as pads grabbed the disk - but the back brake was strong, and there was no lack of engine braking from the 411cc single. In fact, the best part of the Himalayan for me was that there wasn't much of a learning curve to speak of - it was a simple neutral handling motorcycle that allowed me to ignore it, and focus on the rest of the day.
We headed for our first gentle green lane… only to discover roadworks meant it was closed! James, our instructor, seemed unphased, and instead we rocketed off down a number of single track roads to find somewhere else to get muddy…
…the upshot of all of this was that our first offroad section was actually much more challenging than the one they would normally use. It was a rutted farm track, with big puddles and great big lumps of brick and concrete embedded in the mud here and there to improve traction for farm vehicles.
We were warned to stay away from the slippery grass in the middle - to pick a track and just stay with it. To look where you wanted to go, and not to focus on the surfaces - which is hard, because you want some sense of what you're about to hit…
The Himaylan was squirming around underneath me - which was unnerving - but the biggest surprise was clearing the muddy track, and hitting waterlogged grass - which looked perfectly tame and unthreatening, and which turned out to be much more slippery.
Here's an example of someone else's day out with Superior Motorcycle Experiences…
The day continued in this vein - off-road sections, which gradually increased in length and complexity, with pauses to take a breath, enjoy the scenery, take some photos and drink some water. The support van was following, and was never far away - the driver would be there taking photos of us all at different points of the day(gotta get that shareable content for social media…) and the van had our belongings too - so no one had to carry any unnecessary stuff with them on the bikes.
As lunchtime approached, we headed for Seatown beach - where we were waved past the parking attendant to discover the support van was waiting for us. Our chef (really!) provided a delicious chicken wrap, freshly prepared, plus snacks and drinks. We were free to enjoy the scenery, have a bit of a debrief about our exciting morning, and get ready for our afternoon of riding.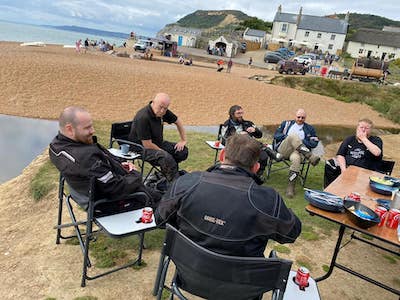 You'll recall I'd said the grass was surprisingly slippery? One of our party managed to take a wrong turn, and lost the front end turning around to find everyone else… and dislocated his shoulder… at which point the team from Superior leapt into action. He was rushed off to A&E in the support van, and our route for the afternoon was replanned accordingly. I mention this just because of how effortlessly the team at Superior managed this, there was no panic or drama,
Highlights of the day for me were as follows…
A singletrack which was basically the width of the bike - off a tarmac road and up into the woods (where I took a bramble to the face here… and I couldn't close my visor because I didn't dare take my hands off the bars…) and there were certainly a couple of moments were all the "stand up on the bike" went out the window, as I was back on the seat, feet out, trying to catch a bike that was ever so slightly out of control… but I didn't want to stop… I had some traction - and a standing start would be harder! The sense of achievement clearing that section was immense.
Blasting along a coastal road, wringing the neck of the Himalayan (whilst really not going that fast) with amazing views over the Jurassic Coast. And then from there we headed up into the hills, where fantastic views continued. If Superior aren't on commission from the Dorset Tourist Board they clearly should be - as I know where I want to go camping this summer!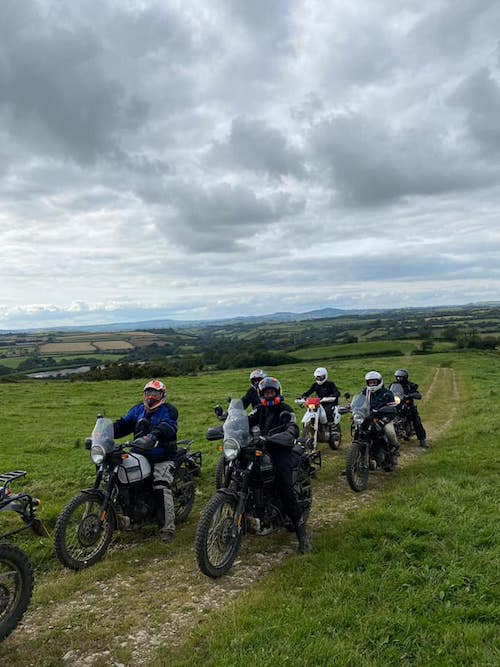 Plodding through an overgrown trail, surrounded by wildflowers and butterflies and insects and feeling like I'm the only rider in the world… I mean, up to a point I was, as a couple of the others managed to get stuck/drop a bike behind me… and I was completely oblivious…
The suggestion was we'd ridden maybe 60 miles that day, to be honest if we'd just stayed on the singletrack quiet tarmac roads I would have been happy with my day - but the off road sections were amazing.
I'm not sure if my riding has improved, really the tuition was being allowed to get on with it on a perfectly prepared bike on trails to suit my limited abilities. That said, I managed to end up following our instructor for a lot of the day… which is cheating really, as you can see what lines he takes, his general body position etc and I think it helped with my riding a great deal.
And the confidence boost of surviving, not crashing, not dropping the bike - of learning that "I can do this" meant a lot. I loved every minute of the day, and want to do it again! Or even one of their three day trail schools (or four day trips to the Pyrenees!) instead.
It's also interesting that a Himalayan is pretty tubby at about 200 kg wet - and whilst they discussed techniques for picking the bike up, I think I'm just glad I didn't have to! I'd always imagined you wanted something a bit lighter for off-road work, but the lazy power delivery and low down torque of the Himalayan was confidence inspiring for a novice.
I do wonder what things might have been like on a lighter 125 or 250cc trail bike. With that in mind, I've been looking at the Dorothy's Speed Shop website and YouTube channel. Nathan, the proprietor runs a fleet of lightweight Honda Postie bikes - effectively a ruggedised C90 beloved of the Australian Postal service - to provide off-road sessions for beginners - and he also runs a fleet of A2 licence legal adventure bikes, including the Honda CB500X and CRF250 - BMW R310GS and of course the Himalayan.
I'm not quite hooked (yet) - but I'd really like to do something similar again…
If greenlaning is something you've been itching to have a go at, but aren't sure where to start, then I can't recommend the Royal Enfield Himalayan and the team at Superior Motorcycle Experiences enough.