Lockdown has meant that really, I'm not getting out on my Honda Helix much (this post notwithstanding…) - but when I do get out for a spin, I can't help but notice that the bike has been popping and banging on the overrun. This is a new development. Well, I say new - the bike did do that when I first bought it - but the cause appeared to be a leaking exhaust and a maladjusted carburettor - and fitting a new carb appeared to fix that.
So I'd noticed the popping and banging, but didn't really know the cause. The exhaust seemed to be connected properly… and the carb is new, so that can't be the problem…
Anyway - as I don't ride the thing, or have much time for tinkering, I've just been ignoring it. However, I recently borrowed the battery out of the bike - to test a few things on another bike… and just happened to notice…
One of the vacuum lines on the carburettor was absolutely knackered…
More specifically the one that controls the air regulator valve that exists specifically to prevent popping and banging…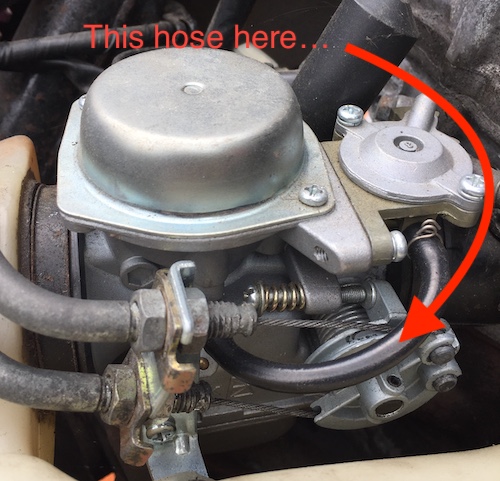 And it's absolutely destroyed. There's no way it's been able to do anything. Which explains the noises. At least I think it does…
Wandering into the garage, I was able to find the original carburettor. That had done 70000 miles + - and yet the vacuum hose was still perfect.
Well, removing the pipe from the old carburettor and fitting it to the new one should take, what, five minutes? And so it'll be dead easy to see if that dead pipe is the source of the popping and banging.
Just five minutes? Famous last words…
The little spring clips that hold the pipes in place wouldn't clear the bracket that holds the throttle cables on. So, I disconnected the throttle cables… well, tried to. Turns out you can't really spin a spanner to remove them without first removing the air box…
Let's just say my five minute job took nearer fifty-five minutes to an hour…
And did it make a difference? Yes the scoot has been transformed. No more popping or banging! And despite the fact I've not been riding it much - it's just about time for another oil change…
I still don't regret the purchase of a £35 copy of the original carb - it was cheap and has transformed the way the bike runs - and was relatively quick and easy to fit - but I worry about the internals, if this is how long an external vacuum pipe has lasted…