I've been meaning to write about my experience of "attending" the Okta conference, Oktane20 earlier this year for a while now. Even if it did happen months ago… I think I was reminded because more and more conferences have been moving online in 2020.
tl;dr - it was a bit odd really… ;)
Wait a second? Attending? In lockdown?
Earlier in the year, it was touch and go for all kinds of conferences. Google Cloud Next was going to move online - but in the end, Google cancelled the whole thing - and have (I believe) turned it into Next on Air instead. Okta don't have Google's resources, so all eyes were on them. What would they do?
Okta decided to move Oktane20 entirely online… and had just six weeks to put together a remote conference.
I'd never attended a virtual conference before. It's always interesting to travel, and it's great to meet other conference attendees, but often when you go to those conferences, it's just airport - hotel - conference centre - hotel - airport isn't it? OK, so you may get a little sightseeing in - but often not much. So I was very interested to see how Oktane20 online would all work.
interfacing
Did you ever play Monkey Island? - a point and click adventure/puzzle game from longer ago than I'd like to admit? If you haven't, you really should… - well, the virtual conference setup that Okta were using reminded me of that genre of point and click adventure. Not least 'cos it felt a little quaint and old fashioned…
Logging into the virtual conference puts you into a virtual conference lobby - which you can see in as the header picture of this post. From there you can click to enter the sponsor booth area, or head into a "lecture theatre" or "breakout room" to check out a talk.
I quite like the conference sales booths. So, there was no swag - unlike a real conference, but it also made it much easier to ignore the sales people who always bug you in real life when at a "real" conference. As I had time to kill before the keynote, I was happy to click through the different booths, to see how they worked, and what was on offer. However, the last laugh was on the event sponsors - as my ThoughtWorks inbox has been spammed mercilessly since. And I even got a sales call late in the evening on a UK BANK HOLIDAY from a RingCentral sales drone. Not very impressed…
Who are you?
For a company that's all about Identity - Okta didn't do a great job when it came to the identity of conference attendees. You only got to create your online avatar once you'd entered the virtual conference. And whilst they'd tried to game-ify attendance (get points for doing the Okta quiz, get points for visiting a sponsor booth and asking a question and so on and so on) they'd made no effort to get attendees to upload a photo, or add additional details to their online avatars. No points offered for "speaking to another attendee about anything…" for example.
This felt like a wasted opportunity, as it was hard to see the faceless avatars of most folks as "real" people. Why they couldn't have allowed us to create and update our profiles a few days before is beyond me. In fact uploading a photo should really have been made compulsory… a conference is about meeting people not hanging with faceless avatars online…
There's no such thing as a free lunch…
Free lunch! All attendees got a voucher from GrubHub to spend on lunch whilst at the conference. Which was kind of cool… but of course also only redeemable in the United States (naturally) - I was able to pass my voucher over to a friend in the states.
Spoilers…
So I knew that my ThoughtWorks colleagues' session had been pre-recorded (which made sense, as there are lots of timezones in play) and the keynote was pre-recorded… but as I attended more and more sessions it became clear that EVERYTHING had been pre-recorded. And yet audio levels were all over the place. In one talk the presenters were in the live chat for their own talk - typing over themselves talking… very odd. And yet folk in chat were asking questions, or asking folk to move closer to the microphone etc…
Anyway - it goes without saying that Kelsey and Pawan's talk (it starts about 17 minutes in) was of course the best one…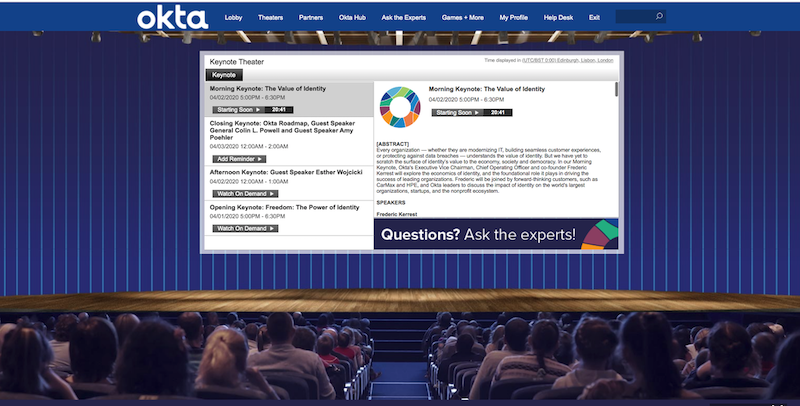 …although the new Okta device trust stuff was also well presented - and really interesting. Really worth staying up for to see "Live". Although - staying up for… the conference was held in PST - at the end of my working day - and then ran pretty much up 'til midnight. After a day of being on video calls, remaining keen to be on an evening of video calls was tough…
in summary
For me it was all over on day two. The novelty of being at a remote conference had worn off - and Okta's decision to pre-record everything meant I was staying up late to watch pre-recorded content I could watch anytime. That was the biggest mis-step for me. I understand the desire to play it safe, and ensure that things ran as smoothly as they could do - but it was the pre-recorded nature of the content that was a big turn off.
That and the timezone shift. A conference I've spoken at before MacDevOps went online/virtual this year. And whilst I really wanted to "attend" - it was the timezone shift (and knowing the videos will be available online shortly afterwards if I'm honest) that put me off. Shame, 'cos I missed some exciting announcements…
…but the initial reports are that those who attended really enjoyed themselves - and I trust organiser Mat X will have worked super hard (as ever) to ensure everything ran smoothly. :)
AND - Mac admin types - if a virtual conference sounds interesting, (and the timezones work for you) you may want to attend the Penn State Mac Admins Campfire sessions which started on the 4th of June, and will be running until the end of July.