With Britain in the grip of the #beastfromtheeast - and London spending all week covered in snow (yes, there's a lot of lag in getting these posts written and posted!) I didn't think I was going to get a chance to do any more ring walking. And then as quickly as it had arrived, London warmed up - the snow melted and Sunday presented itself as vaguely warm and sunny (for March at least) so it was time to wander.
And it seemed about time I got over my phobia of heading south of the river… it was time to do one of the southern sections. But, to ensure it wasn't too frightening I decided to head for Tooting, a place I go once a week for my banjo class - so it's not quite a proper wander into the unknown…
The thing about London is, by it's very nature it's very suburban. I'm sure the current population of the city is in the order of 8 million+ people. And they've all got to live somewhere.
Diamond Geezer was fairly unimpressed with this section of Capital Ring, because of how suburban it is… but for me that was part of the charm.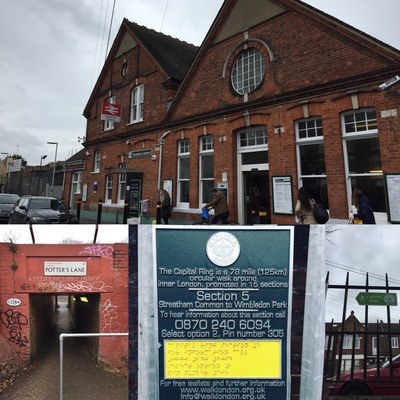 We start at Streatham Common station, then wander down suburban street one - before taking a tunnel under the railway bridge and then wandering past an overly ornate water pumping station, because the Victorians didn't mess around, and even functional buildings were allowed to be ornate, if not necessarily pretty. (See the pumping station "castle" back on section 12)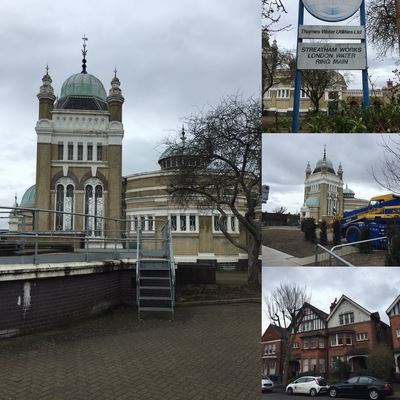 Where I live (E15), the Victorian housing is mostly smaller railway workers cottages - or as you head further east, the houses get a little bigger and more ornate… homes for Victorian lower-middle class clerks who could commute into the city on the new railway, but nothing compared to the giant houses I found myself wandering past here. They're absolutely huuuuuuuge.
I'm assuming these were originally middle-class homes, with space for umpteen children (in the loft?), and a domestic staff (in the basement?)… but that were all flats now - in varying states of (dis)repair, which broadly seemed related to how long ago they'd been converted into flats.
And then we ended up at Tooting Bec Common. This is home to Tooting Bec Lido opened in 1906 and super famous because it's the largest open air swimming pool in the UK. It's well known to me because for a time I was a Lido widow, as Kat spent one morning a week there, training first for a Trialthaon, and subsequently for an open water swim…
…but the Capital Ring decided it didn't care too much about the famous Lido, and instead marched us through the common… and then back out again.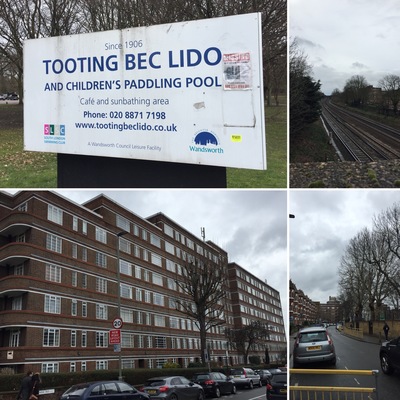 I've been trying to explore more of Tooting recently. My banjo class doesn't start until 8:30pm, so I've often time to kill. Hopping out a station (or two) early, and wandering has been fun. Actually, it was spotting some Capital Ring signs on Balham High Road that inspired me to tackle this section. And it's here that we're back on the A24 - as the route takes us to a huge art deco block of flats, Du Cane Court. Opened in 1937, at the time it was the largest purpose built private block of flats in Europe. (and apparently this is still true.) It's still huge. Art Deco stuff is often elegant, but this block is so big and imposing it almost feels like 1930s brutalism…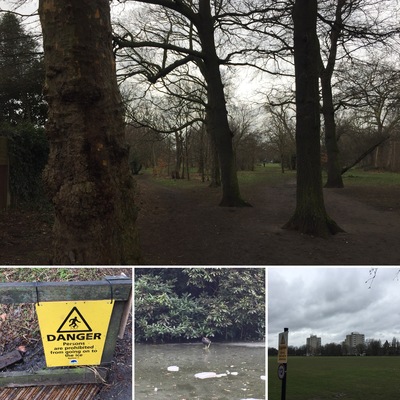 But that's quite enough urban high street. It's past Du Cane court, and into Wandsworth Common, following the railway lines, past (indeed through) Wandsworth Common station, past the frozen lakes - and then out of Wandsworth Common, heading for Wandsworth Prison.
Built in 1851, It's the largest prison in the UK - and is the place great train robber Ronnie Biggs escaped from in 1965. Luckily we're not stopping…
London is relatively flat - but our next stop is a Wandsworth cemetery - which has views out over the city. The official route suggests walking next to the cemetery - but I'd recommend taking the detour through instead.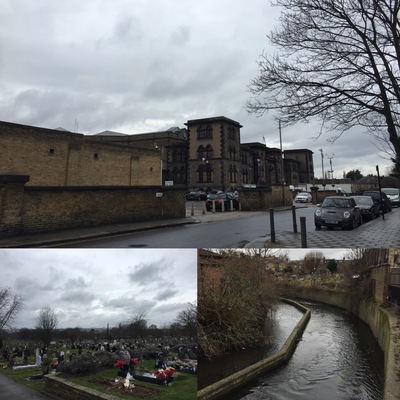 Then, out of the cemetery, right past Earlsfield station and a left to cross the river Wandle. Many of London's historic rivers have been covered over as the city expanded. Not so the majestic Wandle… although majestic is probably a bit strong here, as we're crossing on a grimy road bridge whilst the river flows by underneath in an ugly concrete channel. Although I did spot a guy happily canoeing upstream!
We're heading for our final bit of green space on section 5. Durnsford Road Recreational Ground is tucked away at the end of another suburban street - and it almost feels like we're not supposed to be here at all - that this whole thing is the grounds of Wimbledon Park school. It's here that once again I have a fight with the official route notes, as it's initially unclear where we're supposed to go… follow the edge of the park or follow the edge of the school… (it's the school if you were wondering)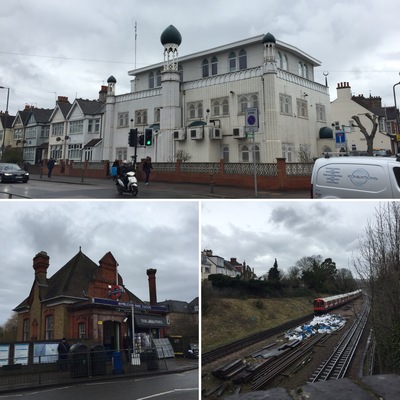 It's home stretch time now - through an alleyway and onto a main road (A218) past the Wimbledon mosque, built in 1977 and a pretty impressive sight. And then we're pretty much done. Trudging up a hill, full of slightly twee shops, towards Wimbledon Park a sleepy little station that doesn't feel like a tube station, but feels too small to be a proper train station.
Time to tube home. That was fun! The bits of London you know are always going to be familiar… but everything else can be an adventure, if you'd like it to be.
THIS SECTION: 5.5 miles
TOTAL SO FAR: 26 miles
MILES REMAINING: 52 miles…