If my first choice of section of ring was chosen at random, my second was very much by design. We had tickets for the last day of the panto at the London palladium which meant I needed to be at Oxford Circus by early afternoon.
So it had to be section 8, that finishes at Greenford on the Central line. This was also an excuse to visit another Charles Holden station - Boston Manor.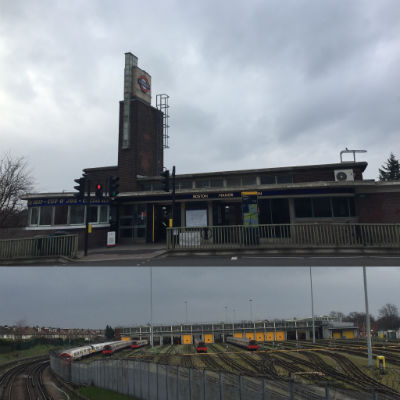 Two women, meeting outside the station and suitably dressed for hiking struck me as potential ring walkers… and indeed they were… I met them again, further down the trail - and ended up having a chat about the ring. They were a little lost, and once again I had route notes on my Kindle… Not quite the same experience as my New Year's Day walk when it was just me.
Leaving the station I was geeky enough to go and grab a photo of the Piccadilly line depot at Northfields, before following some capital ring signs into the woods and down to the river.
Following the river was a complete contrast to the previous walk. It meant I couldn't get lost, or at least not as easily… and once we'd left the flyover at the start of the route the traffic noise dissipated and it was just me, the river, other walkers, runners and cyclists and of course a constant drone of planes on approach to Heathrow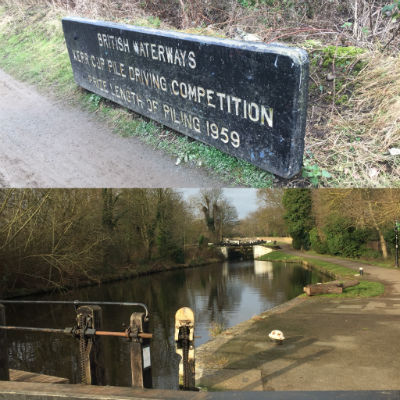 Passing a mysterious piling competition sign, you eventually reach Hanwell top locks on the Grand Union Canal. But the Capital Ring has no more time for canals nor flights of locks sadly and sends us off in the direction of the Wharncliffe Viaduct
Which is quite exciting really. This is apparently one of the highlights of the whole Capital Ring one of the first listed structures in the UK. Built between 1836 and 1837 - it was the first project designed by Isambard Kingdom Brunel.
Not only that, it has hollow legs, full of bats!
Then we get to head through a municipal golf course then through a nature reserve that used to be a landfill site - welcome to the glamorous and exciting world of the Capital Ring!
And it gets even more exciting… we end up in Perivale park. Now, pretty much everything I know about Perivale comes from the late 80s. 1989 in fact, when Perivale played host to the final "classic" Doctor Who story Survival. I'd just got back into the show at the time, was a big fan of Sylvester McCoy's Doctor - and thought Sophie Aldred was, er Ace. Obviously.
I think the whole point of Perivale is that it was a properly boring suburban anywhere - and the park is no exception. But, the Capital Ring is about green spaces wherever possible, so into the park we must trudge.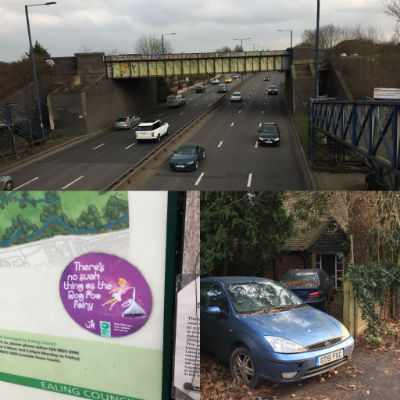 And then, in what I'm really enjoying about this walk - we stumble upon all six lanes of the A40, and another bit of London geography clicks into place… When I first moved to London, I had little or no idea of how it all fits together. In many respects I still don't. But the A40 and I have spent some quality time together, as I commuted into London from Aylesbury by motorbike for a while. Who knew I was blasting past Perivale park, and that I was at risk of being captured by one of the Cheetah people? Perhaps capture by the Cheetah people is what explained the bizarre abandoned cars that clearly hadn't moved in some time tucked away behind some houses - with no obvious route back to the road.
This chunk of A40 was also right next to South Greenford station - London's third least used station - and I wasn't about to add to the passenger numbers, as I was heading for Greenford and the Central line. I had a panto to get to.
Oh no you don't!
THIS SECTION: 5.5 miles
TOTAL SO FAR: 11.5 miles
MILES REMAINING: 66.5 miles…