I'd been slack all weekend, and whilst I knew I should be out walking, I spent Sunday morning listening to records on my radiogram... - but it was a glorious Sunday, and the Ring wasn't going to walk itself. I was even able to convince my fiancée to join me - but my slackness meant we didn't have time to travel across London to get to our starting point. So, despite the fact I'd been planning on saving the local sections for later, we attacked the final section - 15.
To save time, we even drove to the starting point, knowing we could head back to rescue our 2cv by DLR. I wasn't convinced by the sections close by. I've lived around here for a while, and know my way around Beckton, (albeit by car) how many new things will we see? Quite a few as it turns out...
I can't even begin to imagine what Beckton was like before all this housing was built. A lot like war torn Vietnam apparently... whereas now it's filled with unremarkable Barrett-box style housing. If it wasn't for the Tate and Lyle factory on the skyline - and the occassional take off from City Airport, you could be almost anywhere in the UK. It certainly reminded me of the estates I grew up in, both in Stubbington and Aylesbury.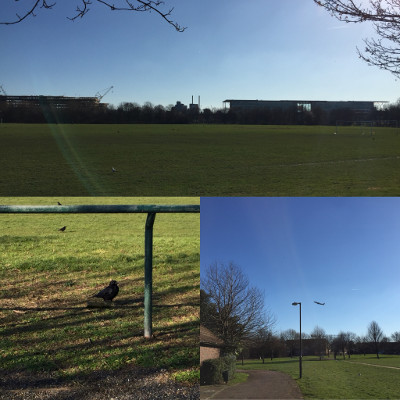 And we're walking Beckton park, a nondescript green space with houses backing on to it. Eventually we end up at Cyprus DLR station, which is tucked under a roundabout. I've driven over that roundabout endless times, but the station underneath is not only kind of cool, it's also the gateway to the University of East London docklands campus.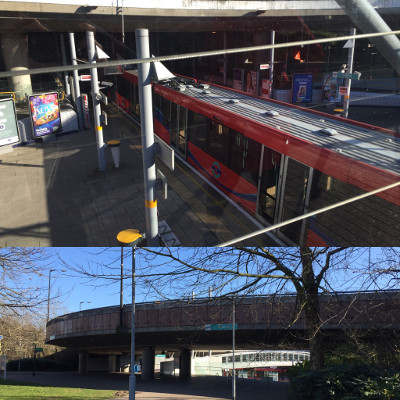 We live around the corner from the Stratford campus, a classical Victorian building - the Docklands campus a complete contrast. It's bright, colourful, modern and cool.
It helps of course that today is gloriously sunny, and that the campus backs onto the Royal Albert dock. It's cold, but still gorgeous today.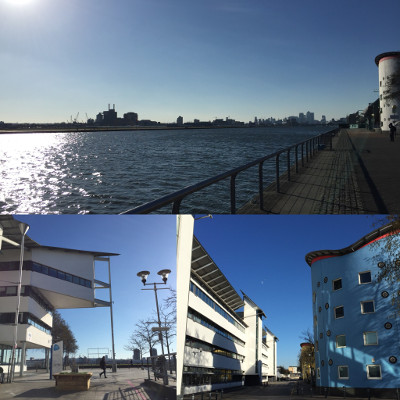 Then we continue east. We're heading for the very end of the dock, land that used to be empty, but is now slowly filling up with flats. At the end of the dock, as you look out over the Thames it feels like you're at the very end of the world... but in reality we're about level with Barking, and there's plenty of suburban east London left.
We get to follow along at the water's edge, heading back towards the Woolwich foot tunnel, at the end of this section. Here we pass a marina (which I did know was there) heading for the main lock gates at the end of the George V dock (which I had no idea were there.)
The lock gates are amazing - they're huge, with giant hydraulic rams which are clean enough to suggest the lock gates are still in fairly regular use. I guess that's how they get all the posh yachts into the dock for the London boat show
I don't think I'd realised there were three docks here. (And I'm local and should know this stuff...) I knew the space as the Royal Docks - and assumed there were two, the Victoria and the Albert. Turns out there's a third, the King George V dock - opened as late as 1921. And it's the George V lock gates we got to walk over.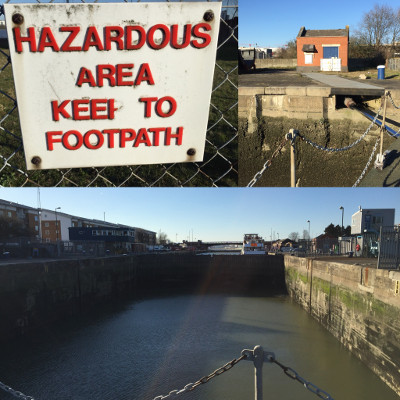 The route notes talk about the largest boat ever to navigate the Thames and to dock at George V - the RMS Mauretania in 1939 so I had to go looking for some photos...
The docks are so residential and so sleepy these days (well, apart from the planes at City Airport taking off and landing...) that it's really hard to imagine them as as bustling centres of industry. Especially on a lazy Sunday like this one.
The dockside path continued, and eventually brought us to Royal Victoria Gardens - again a place I've driven past but never had the chance to walk though. And whilst everything looks lovely in the sunshine, it's a really nice little park. We're heading for the end of the walk, the Woolwich foot tunnel. But actually, the sun is shining, and we're in time to catch the Woolwich Ferry instead...
I'd paused to post a picture of the river in the sunshine at which point I discovered my colleague was also doing this section of Capital Ring today... and was about an hour ahead of us (so already safely in the pub) - turns out my posts had inspired him to take up the challenge of walking the Capital Ring too! Follow Nick's adventures at the London Ring of Spoons.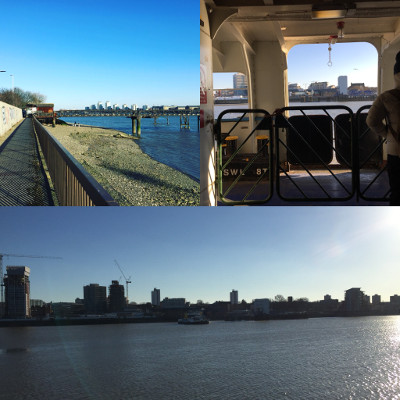 Kat and I hopped on the ferry - and joined them for drink. Then time to rescue a 2cv and then home. It was great to drag a Kat along too (it's normally just me and a podcast or two) - and fun to meet some fellow ring walkers :)
THIS SECTION: 4 miles
TOTAL SO FAR: 20.5 miles
MILES REMAINING: 57.5 miles...