So I did it. I submitted a talk to the biggest Mac conference in the UK. And it was accepted. Which meant I actually had to write and present the talk…
You're not installing THAT on MY laptop was an attempt to distill some of the ThoughtWorks craziness into a 30 minute talk. I hope I succeeded.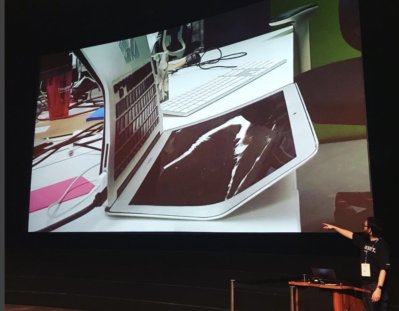 It's a tale of how (and why) Mac management was initially rejected by our privacy focused colleagues, and the things we've done (and the vendors we've worked with) to make things more transparent and more acceptable to ThoughtWorkers, whilst still providing the the controls we need for accurate asset management, and the ability to secure our data and devices.
Huge thanks to my colleagues Phil Ibarrola and Jeff Mash who gave feedback and notes on the proposal itself, helping me turn my ideas into a proper proposal and a thousand thankyous to Jade Foster, the design genius who made my deck look AMAZING. You'll find a copy here.
Thanks also to Emma Ridgway, Phil Yogore, my cats and my long suffering fiancée all of whom were willing (and not so willing) test audiences.
Also thanks to the team at Amsys for accepting the talk, and looking after me throughout the whole process.
And If you came to my talk, thanks for coming!
P.S. There may be video. If I'm feeling brave I'll add a link to that too, when it goes live in a few weeks.