So there are 15 sections of Ring. If my plan is to get them all done in 2018, I need to manage slightly more than one of these walks each month. But winter weather being what it is, it's also an idea to get out and walk whilst you can. I'm not tackling the sections in any particular order, instead it all depends on the weather, where I feel like heading, and most importantly to routes I can reach where the tube is actually running on the weekend…
Everywhere in London seems to take an hour on the tube, and so it was that I found myself but an hour later at Highgate tube, looking out at the abandoned above ground station buildings - constructed as part of the abandoned Northern Heights plan. Services closed on this part of the line in 1954, and the tracks were finally pulled up in 1972… yet the station buildings remain, gently decaying.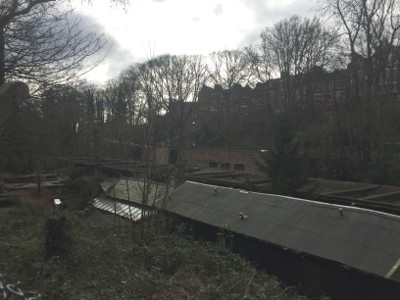 Last time I got to follow the path of the river Brent is help ensure I didn't get lost. This time I had an abandoned railway line to follow. We've seen the abandoned station buildings, now we have the abandoned track between Highgate and Finsbury Park. Known as the Parkland Walk - it runs for 2.5 miles on the former railway line, passing under railway bridges, and over viaducts. It's super busy and clearly popular and on this particular sunny Sunday was full of joggers and walkers.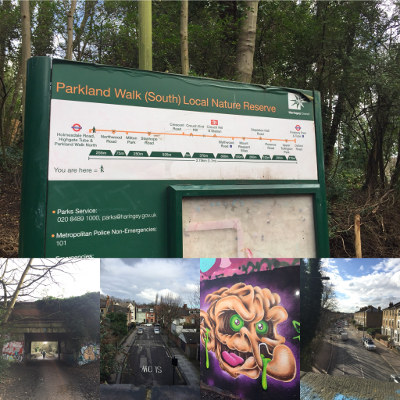 It struck me that in East London we have the Greenway (which runs on top of a sewer) the folks in North London get something much prettier and certainly more fragrant, and it was certainly a lot busier. A real highlight is the former station at Crouch End, where the platforms remain, and the station buildings are now a cafe and cornershop.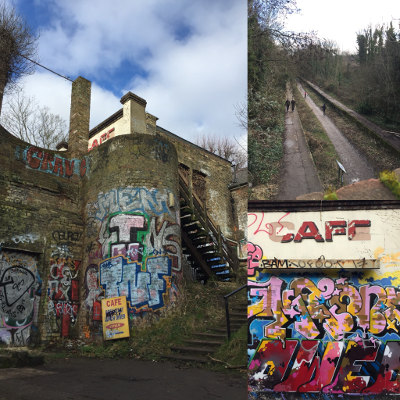 Then at the end of this 2.5 miles section, you cross over the railway lines and find yourself in Finsbury Park where we do a quick lap and then go looking for the New River.
Which isn't actually a river (it's an artificial waterway), and isn't actually very new. (it opened in 1613).
And on a Sunday in February the bank was a horrendous muddy quagmire… and meeting someone coming the other way, he told me the mud was going to get worse before it got better. Still, I was committed now… I'd managed to cover my shoes with mud on my first section of the ring - and today I was wearing my trainers… which I covered in mud. I may go and buy some proper walking boots at some point, we'll see how many pairs of shoes I can destroy first though.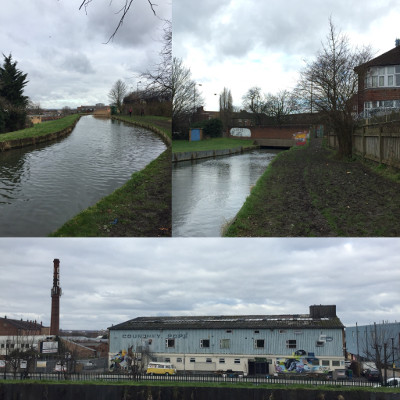 It was quite a relief to make it back onto tarmac without landing on my arse in the mud, as eventually you cross the busy Seven Sisters road. Quite a shock after the last few miles of park and Parkland walk. But it's just a brief respite, as the Ring makes you get back onto the New River path, passing a creepy abandoned graffitti'd house before heading into the Woodbury Wetlands, past Stoke Newington's East and West reservoirs.
This is a real London contrast, as you stroll past blocks of austere council housing that wouldn't feel out of place in the eastern bloc - before running into a load of shiny new build flats, that look OK now, but you know aren't going to age well.
The end is almost in sight at this point, but there's still a mile or so to go.
In an example of Victorian whimsy - when the locals complained that they didn't want a large industrial building in the vicinity, it was decided to disguise it by turning it into a castle… which allowed for the chimney stacks to be disguised as turrets. Built between 1852 and 1856 - by 1971 it was redundant, and the Metropolitan water board applied for permission to have the building demolished.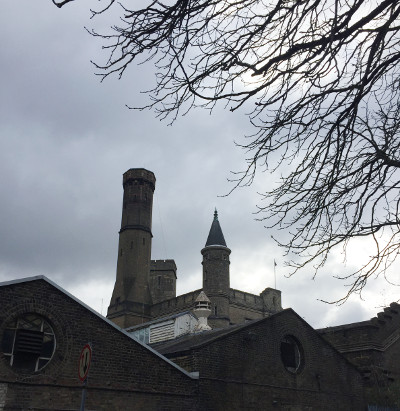 By now the locals had decided they loved their castle - and following campaigns the building was grade 2 listed in 1974. In 1995 it was finally converted into the castle climbing centre.
From here it's a short walk to Clissold Park, somewhere I'd only ever been before for fireworks - so it was nice to get a sense of the place in daylight. The Ring takes us to Clissold House - past not one but two churches on Stoke Newington Church Street - and then into the heart of Stoke Newington itself.
At this point I have a confession. I don't know how to cope with nice London. I'm so used to abandoned mattresses, bookies and fried chicken shops on every corner, and just a general air of, if not decay then of general disinterest - I'm just not sure what to do with nice London. And Stoke Newington is certainly that. It's almost theme park twee… but, y'know - nice to visit.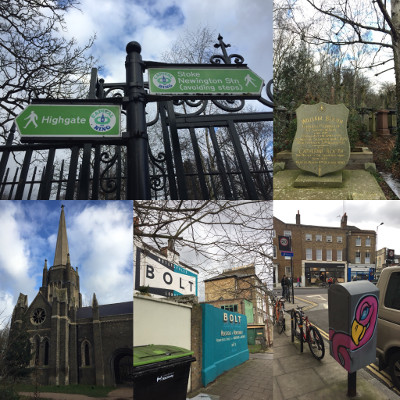 Pausing only to checkout the new sign writing work at Bolt Motorcycles our next stop is Abney Park Cemetery - which as I write this, I realise is my second cemetery on the ring so far - as there was one (and another reservoir) back on section 10 - Abney Park was opened in 1840, and was unique at the time in taking a non-denominational approach - graves aren't segregated by religious belief. The Capital Ring route takes us into the centre, past the chapel - and back out again into Stoke Newington.
At this point we really are done, and it's a short walk up to Stoke Newington overground station. Which is closed today. Part of me is tempted at this point to just walk section 13 right now, as it at least takes me in the right direction… but my tired legs (and the opportunity to try out the new hopper fare) means that I head for home instead… by 308 bus, almost door to door.
THIS SECTION: 5 miles
TOTAL SO FAR: 16.5 miles
MILES REMAINING: 61.5 miles…